Welcome to our office!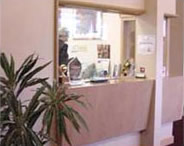 A complete eye examination usually takes approximately 1 1/2 hours. Upon arriving, if you haven't done so already, you will need to complete some paperwork so that we may add you or your child into our system. Once all of the preliminary check-in process is completed, you will be walked back to an exam room for the examination. Prior to starting the actual eye examination, a technician or doctor will take your or your child's medical history, including birth history and any systemic problems that might be present or suspected. This history helps the doctor create a starting point for you or your child's examination. Feel free to contribute any information you feel is important and relevant to you or your child's situation.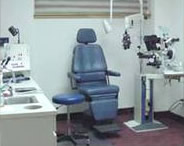 Next, the doctor or technician conducts a visual acuity test using an eye chart. This checks how well you or your child sees. If your child is too young to read letters, we use a special picture-based chart developed by Dr. Wright that the child can understand and recognize. Prior to visiting our office for the examination, please print out the Wright Figures Coloring Book and have your child color the figures. This will help familiarize them to the Wright Figures. Additional tests include evaluation of stereopsis (depth-perception), color vision, visual fields, and all eye muscle movements.
Dr. Wright checks the front part of the eye thoroughly and pays special attention to signs and symptoms of conjunctivitis, pediatric cataracts, pediatric glaucoma, and any external disorder or disease. Once the front part of the eye is completely assessed, you or your child will be given eye drops to enlarge the pupil opening and temporarily relax the strong muscle inside the eye that permits children to focus. The last part of the examination is checking the back part of the eye to evaluate the health of the optic nerve, the retina, and the macula. A final reading of the refractive error (need for glasses) is then performed, and a prescription is written if it is determined that glasses are required. If glasses are prescribed, your child usually needs to return in 3-4 weeks for a recheck with the new glasses. This appointment is a short, follow-up check.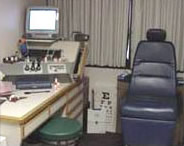 At the end of the exam, you will need to check out with the front office and pay for the eye examination and any other tests done. Dr. Wright accepts all PPO insurance plans, but he is no longer a preferred provider for any of them. We will submit the bill to your insurance plan and, if there is anything left to pay, a bill will be sent to you. You will be expected to pay the co-pay or any deductible due on the day of your visit. If you have financial hardship, we have a community eye clinic for underprivileged families.
Our goal is to make the office visit as enjoyable as possible while providing a professional examination and appropriate assessment of the problem. We look forward to seeing you in our office.