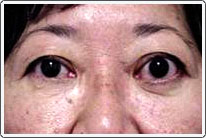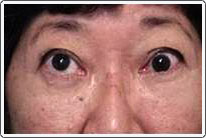 Infant with congenital Brown's syndrome. When the left eye looks up and out, the right eye is restricted and cannot look up.
Thyroid eye disease, or Graves' ophthalmopathy, is an autoimmune disease associated with inflammation of the extraocular muscles. Initially, there is an acute phase during which there is a lymphocytic infiltration of the extraocular muscles, resulting in extraocular muscle enlargement and proptosis (eyes protruding forward). This active phase usually lasts several months to over a year. Orbital imaging studies show thickened extraocular muscles, especially posteriorly. The second phase has secondary contracture of the muscles with a quietening of the inflammation. All muscles are usually involved, but the inferior rectus and medial rectus are most severely affected. Strabismus is caused by tight fibrotic muscles and can develop in both phases, but is most pronounced in the second phase. A restrictive hypotropia (eye turned down) caused by tight inferior rectus muscles is the most common type of strabismus, followed by esotropia associated with tight medial rectus muscles.
The management of Graves' ophthalmopathy is careful observation during the acute inflammatory phase. Treatment with systemic steroids and even external beam radiation may be indicated for severe disease; however, radiation therapy is not effective for treatment of the strabismus. Orbital decompression is indicated for severe proptosis and visual loss associated with optic nerve compression from inflamed extraocular muscles. In most cases, it is better to perform strabismus surgery after the active phase has subsided and strabismus measurements have stabilized. Regarding the timing of surgery, strabismus surgery is usually performed after orbital decompression surgery, since orbital surgery can alter eye alignment. The strategy for treatment of Grave's ophthalmopathy strabismus is to release the restriction of the affected muscle.