Our dedication to providing eyecare services to underprivileged children does not stop at the borders. Funding from the Wright Foundation also supports the work that we do abroad. We have participated in surgical missions including project ORBIS, Mending Kids International's Hometown Mission, Dominican republic, Latvia, Mexico, and Panama.
Panama
Over the past 20+ years, the Foundation has continually supported numerous missions in Panama. In appreciation of Dr. Wright's work and commitment to helping children in Panama, he was recently presented a medal of honor by the Panamanian government.
Philippines
ORBIS project in the Philippines. Photo is a 4 year old girl blind since birth with congenital cataracts. On the left, pre-operative photo where child must look up around the central cataracts to see anything at all, which was still very blurred. Right photo shows post-op day 1, patient seeing for the first time reaching for Dr. Wright's hand. Father happily looks on.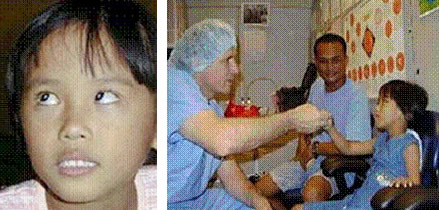 Peru
Dr. Wright has worked with ORBIS International's administrators to design and set up a Pediatric Eye Center in Trujillo, Peru – an area in great need of qualified pediatric eye care specialists. Dr. Nancy Suarez of Peru, who assisted in staffing the Center in Trujillo, came to Los Angeles to train with Dr. Wright on a grant funded by ORBIS. She spent 3 months observing and assisting in the diagnosis and management of pediatric eye problems. The knowledge and experience she obtained has helped her greatly improve eyecare in Peru. Dr. Wright continues to consult and assist in the Center's operations and progress.